Offer a child a new future
The OKE Foundation has been receiving support for years from various individuals who feel involved and have offered their support. As shown in the annual accounts, approximately 95% directly benefit the projects in Kenya. Because Stichting OKE has ANBI status, donations are tax deductible. For more information, see Practical information below or contact us via info@stichting-oke.nl.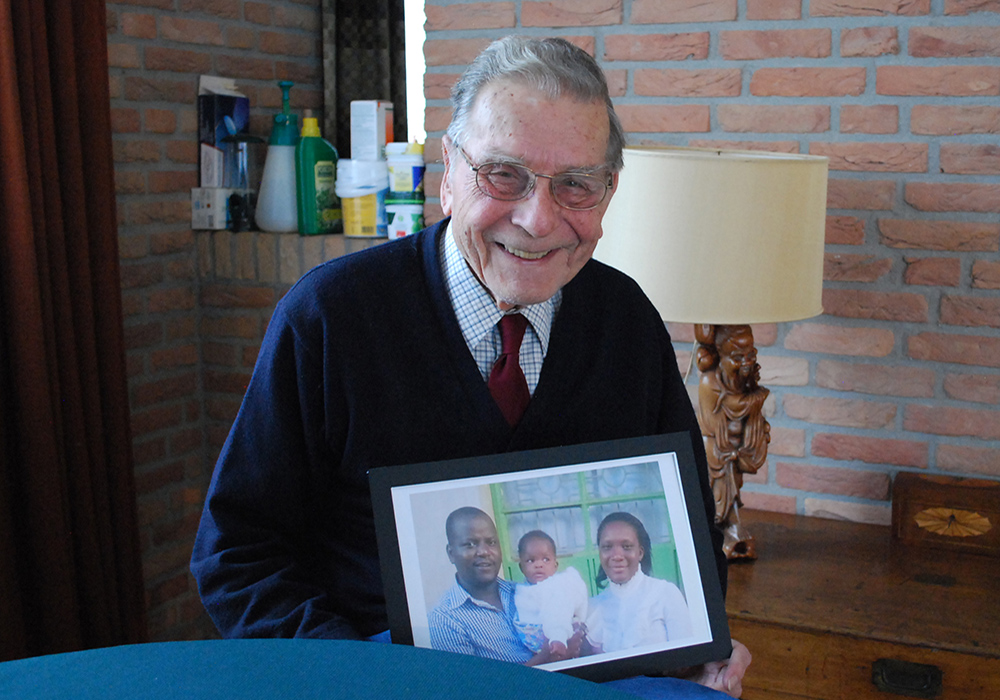 Frank has been a sponsor of Albert since he joined OKE – and even after Albert graduated he could still count on Frank's support. Albert has successfully completed his secondary school and after that has followed a training as a nurse. He is now working in a clinic in the countryside.
ould
Frank thinks it is important that he has a direct relationship with his sponsor child and that he can see that the sponsor money ends up in the right place. "With large organizations, a lot of money is spent on overheads and salaries, which then remains with the children. That is more directly arranged at OKE. "As a neighbor of board members Bert and Marijke Rieks, he also always has easy access to the project, which is useful in keeping in touch with Albert. "Bert and Marijke sometimes bring stuff to Kenya, then I know for sure that it ends up in the right place."
"I also have regular e-mail contact with Albert, who is now busy building a house, trying to give him advice and making good choices, working on a contract basis with a sponsored project. Maybe it's not such a good idea to build a house there now, who knows, maybe your contract will not be renewed, or the sponsorship will stop and you'll get work elsewhere. "
Albert also has no land of his own, says Frank, and that makes it even more difficult. "Maybe you better stay a cottage or stay with family, I advise him. But now that he is the breadwinner of a family, a home is automatically thought of. While that is not always the best choice. "
To give you an idea of the costs:
The 4-year high school education costs about € 300 per child per year (including uniform, textbooks and other teaching material, hot meal and medical care). After the exams, there is a gap year because it takes a few months before the results are known. After that, students with good results can qualify for a scholarship (see also selection of sponsoring children). The total sponsorship for 1 student therefore covers 5 years.
If you want to support us with a fixed amount, you can do so in various ways:
     Friend of the OKE Foundation: at least € 10 per quarter
     Sponsor of student: € 300, – per year (or € 25, – per month)
     One-off donations are also very welcome. We are happy with every amount!
You can deposit your contribution on:
IBAN: NL10INGB0003169994
in the name of Stichting OKE (Stichting Ouder in Kenya Estates)te Heteren.
ANBI-status

The OKE Foundation has been recognized by the Dutch Tax Authorities as a General Benefit Institution (ANBI).
The tax number / RSIN number of the OKE Foundation is 805894640.
This number can also be found on the website of the tax authorities.
Selection procedure sponsor children
After primary school, we offer children who do not have a chance to receive further education from their home for a secondary education. Based on the scores at the primary school, the head teacher and a MES member (Kevince Odongo) make a pre-selection of pupils from 14 schools. Candidates must meet the following conditions:
Good national test score
Bad financial situation
No more than two children from one family
Walking distance from school
On this basis, a temporary list is drawn up. Subsequently, a further selection is made on the basis of an unannounced home visit in which photographs are taken of the living situation. After this, the students are invited to visit Maraboi for:
Information
Write down their life story
Signing a contract
Then the students receive an invitation from Agai to register.
Students are also tested for AIDS, malaria, paratyphoid, worms and pregnancy. If everything is in order the following is provided by OKE:
 School uniform
Books
Shoes
Eating utensils
Then the student can go to secondary school.
After the students have passed their secondary school, those who have passed very good grades receive a scholarship from the government to follow a further education.
If a student obtains a diploma with a B + or A then he or she qualifies for a government grant for the university. The student can indicate a study direction, but if a scholarship is used, it may be that the student receives an offer from another school or university than the student has indicated.
If a student succeeds with B or C + there is the possibility to follow a vocational training if the sponsor agrees. Attending a computer course is also possible to increase the chances of a job.
In Kenya, there is an interim year after high school where potential students are invited by the University (s). From those who study further, we expect that they will not only take care of themselves by earning money during that period, but also that they will focus on their possibilities. The student is also expected to hold a harambee (money collection with the family) in order to pay a portion of the entrance fee. The OKE Foundation (the sponsor) doubles the amount up to a maximum of € 250.